Tips for keeping your prized pooch safe on the road
Crufts 2020 has just finished – meaning all your budding dog lovers are no longer gripped to your television, enviously comparing your own prized pup against the glamorous dog-testants, and eyeing up which dog you are going to get next. 
Does this apply to you? 
Watching this may spur you to jump behind the wheel and go for long dog walks with your best (furry) pal in the depths of the countryside, their favourite spot, or just your local dog-friendly park; but their safety in the car is imperative.
The official rules, according to the Highway Code are to ensure that your dog or any other animal is suitably restrained in your vehicle, to ensure safety and reduce both distraction and injury to either of you if brakes need to be applied suddenly.
Suitable methods of restraints are:
 

Seatbelt harness

 

Pet Carrier

 

Dog Cage

 

Dog Guard
Despite a potential fine of up to £5000, Dogs Trust reported that 44% of owners do not restrain their dog with a harness. Failing to follow these precautions can be highly dangerous
Here are some simple tips to ensure your furry friend is safely restrained in your vehicle, and away from the dangers of the road:
Never to let your pooch into the front seat
While it may look cute to on-lookers, giving your dog access to the front seats of the car can create major distractions for drivers, and put them in risk of danger if the airbag were to deploy. Even if they are properly restrained with a harness, the shock force exhibited could be fatal for your beloved friend.
Do not open windows entirely
Opening a window may be a great idea (in the summer) to create some airflow in the car, and keep your pooch happy, but we would suggest avoiding this unless you want to recreate a scene from Marley & Me.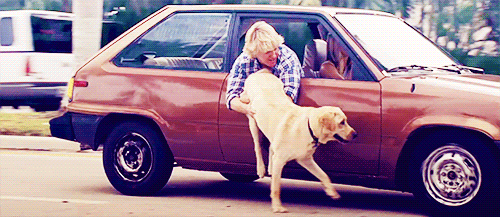 Via: GIPHY
Rolling a window halfway down will stop your pup from making a quick dash, and mean you are not sprinting after them. 
Do not be afraid to open it fully when stationary, but please be careful.
Take regular stops on long journeys
Just like human beings, dogs need to take a break when travelling in the car; whether to use the toilet or have a top-up of water. This will also help ease nerves for anxious dogs, and allow you to get some much-needed snuggle time between destinations.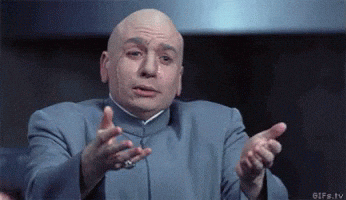 Via: GIPHY
Train your dog to 'wait' when opening the car door
Apart from being a great skill to teach your prized pooch, it can also help reduce the chance of your dog running loose before you are able to grab hold of their lead. This is especially useful in an urban setting where there are many cars and other dangers if they were to run loose.
Teach your dog to relax in the car
We do not recommend keeping your dog calm with soothing breathing exercises, or mediation – it is unlikely to work. Instead, try to implement a training regime which trains them to get used to the interior of a car.
A dog trained to be calm in the car will be much less of a distraction and will help them with their own nerves. Bringing a blanket, their favourite toy, or a prized sock can be an effective method of keeping them calm during trips too.
We understand that you may have to quickly pop into the local supermarket, post a letter, or run into a friend's house when your dog is in the car, but make sure you do it correctly. Leaving a dog in the car for long periods on hot days can be fatal – even preventative methods (i.e. opening the window partly) only go so far to stop this from happening. We, therefore, recommend only briefly leaving your pup in the car, if at all.
According to Fetch by Web MD, you should not feed your dog in a moving vehicle, and schedule a light meal for no shorter than 3 to 4 hours before departure. This will help their stomach settle and avoid any unfortunate accidents in the back of the car.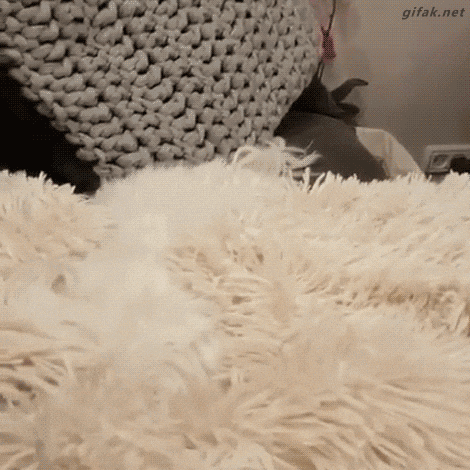 Via: GIPHY
Taking your dog to their favourite spot can be amongst the most peaceful breaks from your everyday responsibilities, but make sure that you do it the correct way. 
Safety is imperative for everybody in the car, including your dog. You wouldn't drive without your seatbelt on, so why let your dog do the same thing.
Follow these tips to travel safely and securely with your dog – they will love you for it!