Simple ways of helping increase the value of your car.
Are you thinking of trading in your car?
Maybe it's costing more and more to maintain, or just doesn't give you the same joy it once did?
Whichever reason you have for selling it, we expect that you are keen to achieve the largest possible amount for your beloved car.
But, how can you make sure you receive as much as you can when selling?
What are the biggest factors affecting price?
This is an obvious one for every seller – well most sellers.
When buying any car, the condition will often be the predominant factor for its saleability.
Have you heard the saying – it's what's on the insides that count?
While your car may look nice and shiny on the outside, many people will often be more interested on its insides. Diving below the bonnet and finding engine problems, massive mileage and a car which refuses to start can begin taking some zeros off the end of your final price.
Keeping your car well maintained both on its exterior and interior are fundamental to maintain its price. Nobody wants flaky paintwork or a car which hasn't properly been serviced for the past few years.
So, it's important that you keep up with the cars servicing and give it that much needed TLC, by regularly performing maintenance checks and being there when it needs you the most.
What are the common ways you are de-valuing your car?
Keeping pets in the vehicle
While you may not mind the smell of your beloved pooch, other people may not be so keen.
Pet odours can linger in your car and create an unpleasant odour – let's not forget about all the mud and dirt too.
You might be a stickler for cleanliness and tidiness, but your dog – not so much.
Buyers who are dog owners may overlook the odd hair or claw scratch mark on the interior, but it won't be everyone's cup of tea.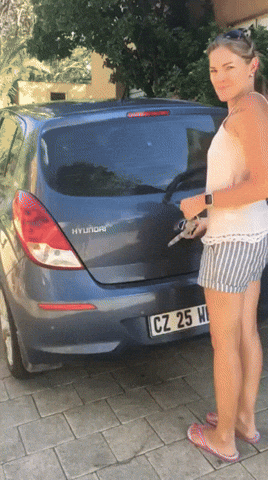 Via: GIPHY
Minimise the impact of your pet by regularly maintaining the interior and keeping the loose hair at bay, so it doesn't make your car smell too much.
Furthermore, taking it to get a professional valet would not go amiss. Shampooing the seats and cleaning away all remnants of a pet ever being in the car is likely to bolster your price and get the best possible returns on your car.
Incomplete service history
Not having a full service history leaves much to the imagination for any prospective buyer.
That's not a good thing.
Much can go wrong in a year, so we advise you to regularly make sure your annual services are completed.
Sure, it may cost you money at the time – which can obviously be a problem in the short-term, but failing to perform these may hurt your long-term value.
Not only will it scrape off value when you come to sell, but it could also help you spot problems before they evolve and become a much bigger headache.
For instance, if a mechanic spots a small issue with your exhaust on the service, they may be able to fix it on the spot (maybe even do it for free). But if you carry on driving without knowing there's a problem, you could be causing major damage to your car and end up forking out an arm and a leg.
Personalising your car
We get it – your car is an extension of yourself, and of course, you want to make it look and feel as nice as possible.
But let's not go overboard.
Adding massive spoilers and heavily tinted windows will often hurt, not help in selling your car.
Not to mention that adding these personalised features can void your insurance policy – always check with your insurer before placing any add-ons to your beloved car.
Don't worry – an air freshener will not de-value your car, but be careful before making any large changes. You may like racing-style bucket seats, but consider the next buyer and save yourself a few quid at the same time.
Cleaning your car
Whether you choose to sell privately or selling through a dealership, you'll want to make sure your car looks the best it possibly can.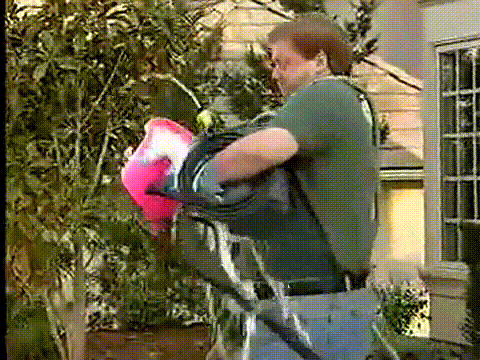 Via: GIPHY
Failing to clean your car properly will likely knock the value of your car – after all, somebody has to clean it. We recommend doing it yourself or taking it to a local valets to avoid large cleaning fees.
The inner clean freak within us all, tells us to treat your car (body) like a temple, but unfortunately life happens, and doesn't usually allow us time to keep them immaculate.
But keeping on top of any spills and grime build up will make the job a lot easier – it means you won't have to spend hours shampooing the interior of your car.
You've got much better things to be doing.
Selling at the wrong time of year
As with any other market on this planet, prices go up and down for a number of different reasons – one key aspect being demand.
For instance, the appeal of buying a convertible increases dramatically in the summer months here in the UK; not many people are in the market to have the cold winter breeze run through their hair.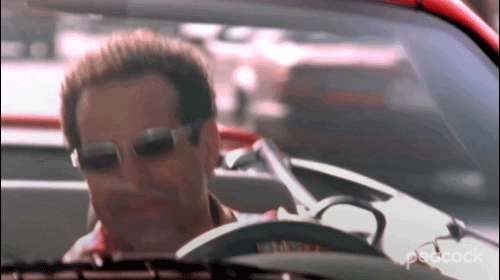 Via: GIPHY
Of course, depreciation is a real thing – so do your research first. As a general rule, the older the car is, the less money it will achieve when sold. But if you own a convertible and summer is around the corner, you may want to hang on to it for a month or so longer to get the best price.
Check out whether you should keep hold of your car, here!
We all understand that the model of the car, its mileage, the transmission, and various other assets the car possesses will vastly influence the final price of your vehicle.
But what can stop you from getting a great price?
The smaller factors; new owners and buyers want to think that you have kept the car in pristine condition, such as you would like when buying a new car.
That means keeping it free from pet hair, modifications, bad service history and bad hygiene.
Fix these common mistakes by sellers and hopefully you will achieve above asking price, and walk away with a few extra quid in your pocket.